Need Help?
Check out our troubleshooting videos and help articles!
Common Customer Related FAQs And Workarounds
Hello. You are a highly valued customer and we would like to help with your buying experience in the event your unit is acting "funny." Before making your Return, we ask that you try a couple of troubleshooting steps with us to troubleshoot if this corrects your issue.
​
First dates are always awkward, just like first-time buying experiences. We aim to please here at Revive IT and highly value you as a customer and friend! That being said; we want to make sure that you get that special VIP treatment with your purchase.
​
We know refurbished units may seem like a gamble on your end - and they are! So, even after all that hard work we did, trying to get your unit up and looking like new if you're still having problems we made this page!
​
If it seems like a simple fix but you can't quite figure it out; We ask that you try a couple of troubleshooting steps we have listed below to try and correct some of these common issues that may come up.
​
If that still doesn't work…. Throw it in a lake. JUST KIDDING!!! Please give us a call so we can either send out a working replacement to you, or help you with the troubleshooting process.
Tips & Tricks
How to activate your product key...
---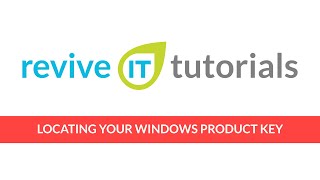 ---
How to activate Windows 10...
---
Click here to learn more about activating your Windows comptuer!
---
Try turning it off completely and then back on...
---
90% of the time, this fixes most computer-related issues. Here is what you should do to accomplish this: ​ Unplug your unit from the wall, hold the power button for 10 seconds. Plug it back in. Turn on the unit again. Let the unit come back on and try it out.
---
---
Trouble Shooting
The power button does not turn my computer on. What do I do?
---
We recommend these solutions:

Solution 1: If your computer does not start, begin by checking the power cord to confirm that it is plugged securely into the back of the computer case and the power outlet.

Solution 2: If it is plugged into an outlet, make sure it is a working outlet. To check your outlet, you can plug in another electrical device, such as a lamp.

Solution 3: If the computer is plugged into a surge protector, verify that it is turned on. You may have to reset the surge protector by turning it off and then back on. You can also plug a lamp or other device into the surge protector to verify that it's working correctly.

Solution 4: If you are using a laptop, the battery may not be charged. Plug the AC adapter into the wall, then try to turn on the laptop. If it still doesn't startup, you may need to wait a few minutes and try again.
---
My computer is slow or frozen...
---
9 times out of 10, the problem can be fixed by restarting your machine.
---
The splash screen is stuck on the manufacturer logo (Says only Dell, HP, Lenovo)...
---
1. Turn off the computer. 2. Remove the RAM. 3. Give a quick cleaning to the gold connectors with lite alcohol and a Q-tip. 4. Reseat into DIMM Slot (install back into the slot, firmly.)
---
The screen is black...
---
If it does turn on and you can see lights on the computer or hear the fan spinning: For Desktop: After checking power cables ​ 1. Check your monitor is powered on. 2. Make sure your video cable is plugged into not only the computer but the back of your monitor firmly. 3. If both answers are yes, you can try pulling out the RAM cleaning it and plugging it back in. For Laptop: After checking power cables ​ 1. Check the keyboard area for any power lights turning on. 2. Unplug AC Adapter from the unit, remove the battery, wait 10 seconds, plug battery back into the unit. 3. Try pulling out the RAM cleaning it and plugging it back in.
---
The sound isn't working (no audio)...
---
Solution 1: Check the volume level. Click the audio button in the top-right or bottom-right corner of the screen to make sure the sound is turned on and that the volume is up. ​ Solution 2: Check the audio player controls. Many audio and video players will have their own separate audio controls. Make sure the sound is turned on and that the volume is turned up in the player. ​ Solution 3: Check the cables. Make sure external speakers are plugged in, turned on, and connected to the correct audio port or a USB port. If your computer has color-coded ports, the audio output port will usually be green. ​ Solution 4: Connect headphones to the computer to find out if you can hear sound through the headphones.
---
The keyboard is not working (numbers in place of letters)...
---
Check settings. Sometimes the "FN" Key is the culprit for making the keyboard into a numbers only environment. Tap the "FN" key coupled with the "FN lock" Key (usually the "ESC" key to turn on/off Function Lock. "Num Lock" Key on other units will create a similar issue.
---
SATA Operation Changed in BIOS...
---
Most of our customers do not change these features in the BIOS, however, if you are more inclined and computer literate, you may find yourself changing this option. Always make sure it is set to AHCI in the BIOS.
---
Wifi not connecting, hard toggles...
---
1. The wireless switch of your laptop is off. 2. Your laptop cannot find the SSID of the router but other wireless devices can see the SSID. 3. You need to turn on the laptop wireless switch. 4. Hard toggles are generally located on the side of the laptops. Some laptops will have the toggle located on the keyboards. Some have an icon in the shape of an antenna. Some are part of the FN keys. ​ Try turning the switch on and try connecting to the network again.
---
---
Warranties
What does your warranty cover?
---
We cover any HARDWARE issues that may occur within the first year of purchase. This is along the lines of failing power supplies, batteries, hard drives, speakers, touch pads, LCD issues (that aren't accidental like cracked screens) etc. Unfortunately we cannot help with any software issues. This is along the lines of programs not loading correctly, wifi issues, issues with Microsoft, or any components being added to the unit that were not from the original purchase.
---
Do you cover accidental damage?
---
Fall damages and spills are unfortunately not covered under our warranty. Always remember that liquids are the enemy of electronic components! You can't do anything with the item after a spill and neither can we =[
---
How long does your warranty process take?
---
Typically we estimate a 1-2 week turnover for a warranty repair. The actual warranty procedure is relatively quick! Once we receive the package we can get it fixed up within 3 business days - usually sooner! It's the shipping that takes away most of the time. So as soon as you can get an item shipped out for warranty the sooner we can get it back to you!
---
How long are your warranties good for?
---
From the purchase date; we provide a 1 year warranty for FREE on all of our desktops and laptops!

We also offer a 3 year warranty for just $40 more! That's cheaper than a dinner for 2 that you only experience for 1 night. This is for 3 YEARS! That's 1,095 Nights! What a steal!
---
Is your warranty free?
---
Does a one legged duck swim in a circle? Yes... we provide an absolutely FREE 1 year hardware warranty on all of our desktops and laptops!
---
Do you have warranties for other products?
---
Unfortunately we only offer warranties for our desktop and laptop computers. However, If something we send is not working we will always try to get you a replacement as the first option. If that option is not available we will provide you with a free return label and take back any product within the first 30 days of purchase!
---
What do I have to do to get a Warranty Repair for my computer?
---
This is relatively simple; if you are experiencing issues with your computer please send us an email at CS@reviveIT.io, Please include: 1. Your order number 2. E-mail address to send return label too 3. Verify the mailing address you want the computer to be shipped back to 4. Give as much detail as possible when telling us the issues you are experiencing
If talking to a person is more your style then please give us a call at 602-688-5777 and we can walk you through everything!
---
What needs to be done before sending the computer back.
---
Information! Make sure the issues you are experiencing are reported to one of our team members via email or phone call as detailed as possible. This way our Techs can help resolve the issue as quickly as possible. Help us, help you =] Passwords! Before sending it back, please remove the password from the windows login so we can ensure that the unit is fully functional!
(We know that this may seem kind of invasive but please keep in mind we are one of the biggest company that deals with assets and managing customer data, we probably take your privacy more serious than you)

---
---
Returns
How do I return my item?
---
If you are experiencing issues with your purchase please send us an email at CS@reviveIT.io, Please include: 1. Your order number 2. The E-mail address you want return labels sent to 3. If the product is defective please provide some detail so we can try and prevent the issue from recurring.
If talking to a person is more your style then please give us a call at 602-688-5777 and we can walk you through everything!
---
How do I get an RMA number?
---
Once you have sent in an Email to CS@ReviveIT.io or called us requesting to return an item for a full refund or a warranty repair you will be given an RMA (Return Merchandise Authorization) number. This number will be located on the return label we provide; as well as in the Email we send. Don't worry it's only 4 digits! PRO TIP! If you would like a speedy process with your RMA please write your RMA number on the side of the box you are sending it in.
---
Do you offer returns on products?
---
We expect that you will absolutely love your purchase, if for any reason that's not the case, we offer completely FREE returns and no hoops to jump through for the first 30 days.

We will provide you with return shipping already paid for and credit your account back 100%. Absolutely No restocking fees!
---
Where do I physically return my product?
---
The return labels we provide will be valid through any FedEX facility. Just take your package to the nearest FedEX location in your area; print out the label we provide, tape it to the box and hand it over to FedEx! It's that easy!
---
How long does it take to get my refund?
---
You will receive a 100% full refund up to 1 business day after receiving your package. Once your item gets delivered our scrappy young processing team will go through the contents, verify everything is there, then credit you back in full! If for any reason you are not seeing your full refund after sending a package back please give us a call at 602-688-5777 and we will get everything cleared up quickly!

---
Where is my return label located?
---
All of our prepaid return labels are sent electronically to the E-mail address we have access too. (Usually the Email used when making the initial purchase).
If you would like a return label sent to an alternative E-mail address please either write us an Email with correct address or give us a call at 602-688-5777
P.S. Sometimes our return labels get sent to your SPAM inbox, so be sure to check for sender "CS@ReviveIT.io" if you have already set up your RMA! =]
---
---
Activation helps verify that your copy of Windows is genuine and hasn't been used on more devices than the Microsoft Software License Terms allow.
​
Depending on how you got your copy of Windows 10, you'll need either a 25-character product key or a digital license to activate it. Without one of these, you won't be able to activate your device. The product key or digital license can't be substituted for one another. To find out which one your device uses, see What activation method do I use, a digital license or a product key? in the list below.
​
A digital license (called a digital entitlement in Windows 10, Version 1511) is a method of activation in Windows 10 that doesn't require you to enter a product key. If you upgraded to Windows 10 for free from an activated copy of Windows 7 or Windows 8.1, you should have a digital license instead of a product key.

A Windows product key is a 25-character code used to activate Windows. It looks like this:
​
PRODUCT KEY: XXXXX-XXXXX-XXXXX-XXXXX-XXXXX
​
During installation, you'll be prompted to enter a product key. If you have a digital license, select the option to continue without entering a product key.
​
For help finding your product key, see Find your Windows product key.
Where To Find Your USB Wifi Dongle
If you ordered wifi on your machine, you will have a small USB dongle inserted into your computer that will give you access to wifi. If you are having trouble locating it, see the pictures below for reference.